Last year, I came across an instagram account for "Pioneers in Skirts," not really knowing what it was except that it seemed like a cool project about women and their work. Since I am a woman storyteller, this seemed like an ideal concept for me to follow for some inspiration. Then I mentioned it to a friend. He said, "YOU know Pioneers in Skirts? I donated to their kickstarter." I dug in more. I dug in more and that meant an intro to Ashley Maria, the director, producer, and writer of the documentary film, Pioneers in Skirts! 
But what is Pioneers in Skirts? From the website, "Pioneers in Skirts is a documentary about how young pioneering women overcome the obstacles that get in their way. By @AshleyMaria and @MarketSleddogg. Completion date: 2017! You can keep up with our progress by clicking here to watch our latest movie update!"
And who is Ashley Maria? She is an innovative filmmaker, and so much more, from Raleigh, North Carolina, now living and working in Los Angeles, California. Growing up, she always wanted to be a filmmaker so she got a Bachelor's Degree in Media Production & Advertising from UNC Chapel Hill before moving on to get an MFA in Film and Television Production at the University of Southern California School of Cinematic Arts. Like many women, including myself, she's faced obstacles with her career starting, stopping, and then navigating the perceptions and unique barriers for women, as the waves of feminism progress in a male-dominated world. Still, nevertheless she persists with innovation and reflection to grow and make changes to better the communities she lives in for the people — men and women — around the world.
It's neat to meet so many people, especially women, who are innovating. I don't mean to be too redundant with what's online, but what is your primary work focus these days?


The documentary,

Pioneers in Skirts

, is my primary focus. I work with an Editor out of my apartment here in California. My Producer and I work remotely (I'm in LA, she's in Raleigh, NC) on efforts to keep the film moving forward. We fundraise and apply for grants in order to make it to the next stage in production, review edits and go through notes, and work with volunteers and paid freelancers to complete the many items needed to finish the film. It takes so much time to make it all happen, that it's nice to have a second person at my side.

When I'm not working on Pioneers, I'm either directing shorts or commercials for others, or I work as a location production sound freelancer. I've had a lot of amazing opportunities doing sound because I am often on very high profile sets. I get to meet and work with incredible actors, directors, and crew. It allows me to build my network as well as gain some tips or knowledge on how others do things.

In order to work in Hollywood, I, like many others, take on several jobs to make ends meet. I am fortunate to have been asked to teach sound to film students and to movie Directors. I teach at USC and UCLA as an adjunct professor. I'm always writing and working towards my next feature — which will be a narrative. I just love being a storyteller and know this is the only life for me.
2. Love the concept. Why documentaries? 
Documentaries are the type of story that can actually impact and influence change. That's why I chose this medium for investigating and exploring what real women are going through in their careers right now. The people I meet and film are relatable, and — in return — the audience feels they should and can be more involved.
It made more sense, too. I grabbed my camera, sound equipment, and just started filming. I really didn't have time to wait. The story was moving in real time, so I had to run with it. I was learning how women achieve an equal footing in their lives and in their careers. I knew I didn't want to "just deal with it" anymore…I was experiencing sexism and bias so I had to do something.
3. Going with equality, you mentioned "if you can dream it, you can be it" obstacles. What are some specific barriers you've come across?
Ever since I was a little girl, I wanted to be a filmmaker. I had a dream and went after it.  Little did I realize that I would always be considered a "woman director" rather than "a director." I didn't realize that I would be seen as a woman in the industry, not as a person who knew how to direct. For example, I'd walk on set and people thought I was the "girlfriend," or I attended a film festival where people tapped me on the head, suggesting "wow, that's so great you could make a movie!" I certainly wasn't feeling respected and wondered why.
I thought maybe it's how I was presenting myself. Is it something I'm doing wrong? I then became more assertive or would take charge of a situation. Then I'd suffer through the "she's aggressive or a bitch." It's not how I want to be perceived, and I don't want to have that kind of leadership style. I was conflicted and frustrated, but most of all confused as to what I should do next. Luckily, I could pick up a camera and ask questions.
Once I began Pioneers in Skirts, I discovered it's happening across the board. I'm not alone. I found a 2014 Bain & Company survey that told me when women start off in their careers, they actually have more confidence than their male counterparts. But in two years, their confidence and ambition in their potential for career success plummets by 60%. This is exactly how I felt. The survey results tell us that starting at just two years out of college, women don't think they're going to succeed in their career.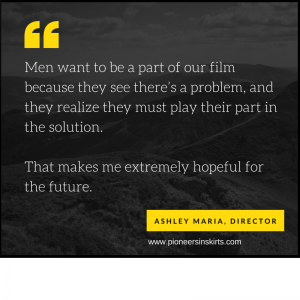 I learned that I had been internalizing a lot of the bias around me and it wasn't my fault. I really, desperately want young women, especially, to realize "it's not you." There are many barriers that are unique to women, but studies have shown that unconscious biases is the lead factor to today's continued issues of gender inequality. Women certainly didn't ask for this — and are just as guilty of having biases as men are — so women and men both need to be empowered to deal with unconscious biases. The first step is to be aware that it is happening. The next step: know what to do about it.
4. I've noticed too that there are so few spots. Who do you look up to when carving out your way?
It's tough when there aren't many women directing in Hollywood. Is it fair to say your role model can't be a man? I actually had the opportunity to work with Wes Craven. He took the time to mentor me. He watched a short film I made, Friday Night Fright, which won the Director's Guild of America award. He LOVED it! I was so honored. I always appreciated his movies. Who doesn't?! His films scared the crap out of me when I was a kid and I loved it.
Wes Craven gave me some good advice as I was directing an episode of a show he was producing. I was fighting to make sure I got a shot – fighting time, resources, etc. – and I was getting frustrated. He pulled me aside and said, "Ashley it's always a fight. It's never going to be easy. It's always a fight."
"Yes, Wes Craven, you are right." It's always a fight.
5. With it always "being the fight," how have you dealt with adversity?
Luckily, I've learned that there are so many more things in play. I've come to prefer to think that most people come to the table with good intent, and when things get a bit edgy at work, I have to realize that what people say and do is usually a projection of their own reality and nothing to do with me.

It could be their circumstances, or maybe it's the culture they've grown up in. I just know it's important that I don't make assumptions and don't take it personally. I try to have an honest conversation with people, "Hey, we have to work together. What is going on here?" I try to be respectful and move on.
6. Documentaries provide a lot of inspiration from those real life stories. How do you feel most inspired? 
I'm inspired by the women dealing with challenges in their careers, those who are lifting each other up, and the men who are making efforts to be part of the change. I like hearing their stories of how they've come to realize and improve this real problem happening around them.
I'm inspired by the outcome of all the work we've put in: four years of research, interviews, following people in their lives and at work…all the fundraising… there's a real need for it. It's all about what gets in the way for a woman when she's aiming to reach her full potential, and how to stop it.
7. I like that you do a lot of reflection. What are you most proud of, so far?
I'm most proud of the working relationship I've developed with my Mom. She's the Producer I referred to earlier. We're co-writing and co-producing this film together. My Mom is a professional. I've learned a lot from her. I'm proud to have had this opportunity to work with and learn from her.
It's been really cool to get to know her better through this process. She's done some amazing things in her life and in her career, like running the international torch relay during the Beijing Olympics. And for her to jump on board to work with me is such an honor and an exciting time. She not only wanted to help me on my first feature, she also wanted to find out how to help me in my life and my career. She was upset I was going through the same things she went through thirty years ago.
She started off by jumping in with marketing and project management of the film. She then started researching topics and helping me figure out who to interview and how to get there to film it. I taught her to work the camera and sound equipment, and now — well, she's pretty much done it all now. We're a good team. 
8. Why do you think you are where you are right now or where you're going?
I think I'm supposed to be where I am right now. I have plans and won't give up on them. That's really it. I will not give up. You have to keep redefining what success means for you. Set milestones and keep going for them, one step at a time.
9. I agree that you should always have something to work towards. That certainly motivates me with all my "random interests!" What is something interesting about you outside of film?
I love to play dodgeball, but I hurt my knee and had to stop for a while. I've tried to learn to cook and start cooking for myself. I'm not very good, but at least I can make a good stir fry.
10. Film and fun throwing dodgeballs with a little stir fry on the side. What's next?
Oh, you mean GOOD stir fry. (Ashley grins.) Oh gosh, next: I'm totally focused on preparing for our upcoming fine-cut test screenings in August. Feedback is key.
We are also heads-down into fundraising, too. We need to raise at least $50,000 in film-finishing funds to hire a graphic artist, color correction engineer, post-sound person and studio, travel for our composers to the mix, music, lawyers and insurance…the list goes on. For that, we've partnered with a fiscal sponsor so that donations are tax deductible. We are looking for company sponsorship, too – a company that has a mission to advocate for women and girls. We want a company like that to carry us to the finish line by sponsoring the film. Then comes distribution. That's a whole different and exciting work effort, because it means audiences will finally be watching the film!
For now, I'm looking forward to going home to Raleigh in July. I'll be working with Mom on the film and stepping away from the film for a little bit to do some writing. Maybe I'll do nothing for a few days, too!
The film has progressed. I've seen clips of it, but filmmaking, like any undertaking, requires funds, people, and tons of resources. The next time you watch a movie, sit back and watch the many names in the credits at the end. When you make a documentary, it takes an army of supporters and volunteers and skilled professionals. I'd love for anyone moved by this story to make a donation, or find out if your company would like to support women and girls — and help Pioneers in Skirts finish post-production and get in front of people who need to see it!
Be sure to like Pioneers in Skirts on Facebook and follow them on Twitter. 
---
Thanks for reading Ashley's story. Share in the comments how it impacted you or share it on social media. Check out next week's weekly post on Women & the Ways We Work. Missed the others? Take a look at my blog to read the others. Know someone you think should be featured? Can I help you or your organization with a storytelling project? Contact me and let's chat.