Women of all ages and backgrounds are pushing boundaries more than some realize. Women and the ways we we work are growing. As someone who's fueled by culture and seeing change in communities through structures and social movements, I was thrilled to witness the fire in Zainab Baloch at a recent Raleigh Election Candidate Forum.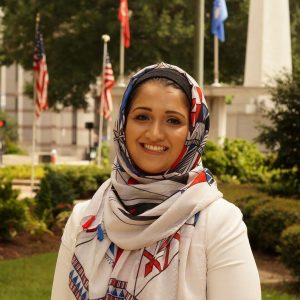 Zainab is a 26-year-old Raleigh native who is running for Raleigh City Council's At-Large seat in the upcoming 2017 municipal election on October 10th, 2017. She works for the North Carolina Division of Mental Health and is finishing up her Master of Public Administration at UNC-CH. She used to work with the City of Raleigh directing summer and after-school camps with youth programs.
Zainab's platform focuses on breaking down social and economic barriers in Raleigh to help all groups. She sees her platform as a positive face of change. Her passion for bridging social and economic gaps stems from her time serving the Raleigh community as a community activist, particularly working with social justice groups. In hearing her speak at the candidate forum, I could hear an obvious drive to contribute to the betterment of her hometown. Devoted to making change, for so many causes and areas of inequity, Zainab has a great story and I'm glad to share it in my Women and the Ways We Work series.
Zainab, you're doing some incredible things in the community right now and working towards some even bigger goals. What did you want to be when you grow up and how has that evolved?
My parents are Pakistani, so becoming a doctor was pretty much destined for me when I was born. Eventually, my destiny changed once I started college at North Carolina State University and realized Biology was not as exciting as one imagines. I explored a couple of majors and ended up getting a double major in Chemistry and Psychology. Psychology intrigued me because I have always tried to understand people better, plus I was working with after-school camps with the City of Raleigh and wanted to work better with the children. I loved working with kids and ended up teaching fourth grade for a year. I decided I wanted to use my Psychology degree and got a job with the Division of Mental Health. I was pursuing school psychology until I started with the State and realized I really wanted to work as a public servant. So, I decided to pursue my Master in Public Administration at UNC-CH (my heart still belongs with the wolfpack though).
2. It's okay. I've heard you emphasize your loyalty to "the Pack." So, you're running for Raleigh City Council, At-Large, but what do you do in your "day job" and why have you chosen that line of work?

I work in the Division of Mental Health, Developmental Disabilities and Substance Abuse Services in the Quality Management – Policy Audit section. Yes, that's a mouthful – but I love it! I get to oversee the state's mental health facilities and Local Management Entities (LMEs) and help better their processes. A good chunk of my job involves data and having an advanced understanding of excel and some coding. When I started this job, I thought being able to add the numbers in an excel column was advanced! Little did I know. What I love is that this job has taught me advanced skills in various softwares and coding and it helped me find a passion for something I never thought I would enjoy. Overall, I understand the impact of creating policies and making sure they are properly implemented in order to make sure our most vulnerable populations are getting the care they deserve.
3. That's absolutely crucial. As someone who has dealt with anxiety and depression, I appreciate how vital these services are to keep people on track to be happy and healthy. So glad for people like you working on these policies and programs! How have you dealt with adversity?
"We cannot change the cards we are dealt, just how we play the hand."
I think this describes how I have learned to deal with adversity. Adversity is something you have to learn to deal with and you don't always start off having the best methods to deal with it. I used to get angry, blame myself or others, and sometimes give in or up. But, I've learned that life's challenges can help lift us up instead of knock us down.
I've learned to use humor to deal with adversity because it helps you think more broadly and creatively. I try not to take the negatives too seriously or too personally. I, also, have realized choice is the enemy of fear.
When you have choices, you don't feel trapped by your circumstances.
We all have plenty of choices, but the most resilient leaders are masters at reminding themselves of this fact in the face of adversity.
4. Choices; they really do make a huge difference. What is your passion and why is it important to you?
There is a Chinese saying that goes: "If you want happiness for an hour, take a nap. If you want happiness for a day, go fishing. If you want happiness for a year, inherit a fortune. If you want happiness for a lifetime, help somebody."
My passion has always been to be the person who can help others and to be the person someone calls when they need help. I am not here to look down on people who have less or feel bad. My passion is to build people up and for them to realize they always had it in them – they just needed someone to remind them. My passion is to speak out against social injustices and help to dispel them. In 6th grade, my dad encouraged me to volunteer teaching pre-schoolers at sunday school. It was since then, I just discovered I loved being the light at the end of the tunnel. The feeling you get when you're able to take a weight off someone's shoulders is unmeasurable. This year my passion evolved into a more ambitious one: running for Raleigh City Council.
Yes, it is and will be a difficult task if elected, but I am ready to bring my passion into a larger arena.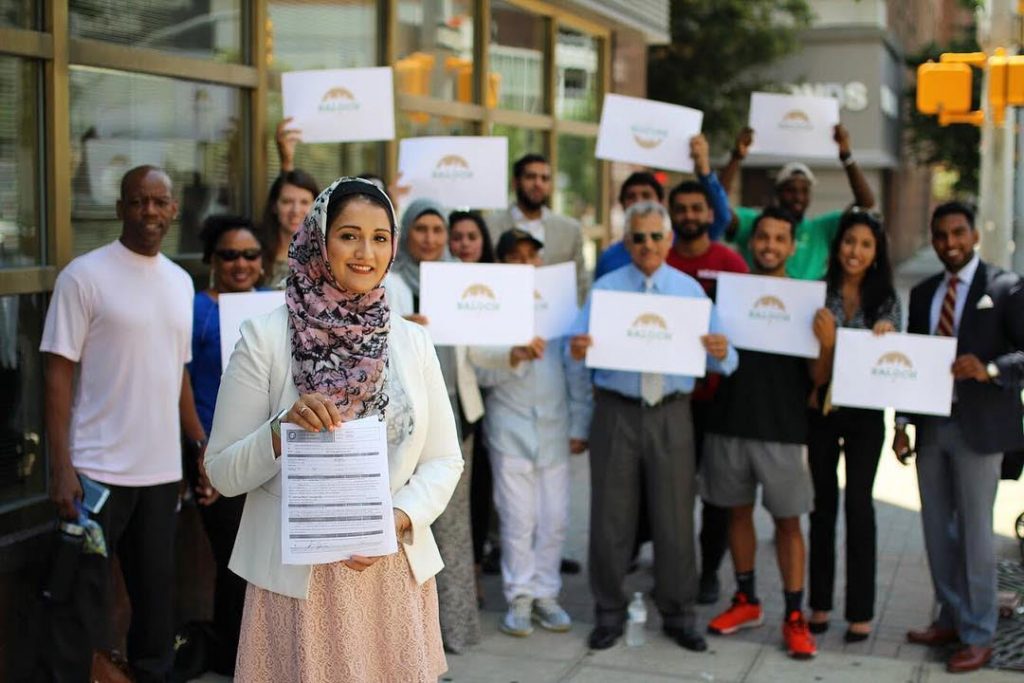 Passion allows us to be more than we think we are. It drives us to push limits — limits which we often create for ourselves — and it gives us the opportunity to inspire. Be passionate about something. Anything. And see how much happier you will be.

5. I can relate to being such a giver, but you have to relax sometimes. What do you devote your time to outside of work?

Basketball. Basketball. And more basketball. I love watching, playing, and experiencing basketball. I am a huge NC State fan, so I am at all the games during basketball season and have cried and gotten upset for days over the loss of a game. Though, to be fair NC State basketball tends to break our hearts more than one can take. My little brother, also, plays basketball and I am always his biggest supporter!
Also, I always just like to be active in various service and outreach organizations. Lastly, I love reading! I have read Harry Potter no less than 50 times during my lifetime.

6. I knew there was something a little light in there. What causes and organizations are you most committed to?

I was on the founding board for Habitat for Humanity Abraham Build and have a passion for making sure people have a proper and affordable place to call home. Another passion of mine has always revolved around helping the youth. I worked with the City of Raleigh directing after-school and summer camp programs and realized the tremendous difference we can make in children's lives. I, also, co founded a girls leadership group at our mosque to help empower young women and ensure they have the skills to become great leaders. Any social injustice is something I've always been passionate and very outspoken about. Movements like #BlackLivesMatter is one that I try to be active in.

7. What is something interesting about you?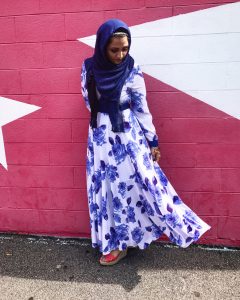 I can touch my nose with my tongue. Apparently that is usually interesting to people. I am super fashion obsessed. I love colors, clothes, and dressing up. My friends used to call me Lady Gaga in college because of how eccentric my outfits were. I liked wearing flowers and feathers in my scarves and lots and lots of sparkles. I've definitely calmed down my eccentricness since college, but my outfits always have a little bit of "Lady Gaga" in them.
8. Nothing wrong with standing out a bit with your creativity! What are some of the biggest challenges you have faced?
On February 10th, 2015 I lost three childhood friends to a man full of hatred. Deah, Yusor, and Razan (#OurThreeWinners) were shot and killed in Chapel Hill that year. I had gone to school with Deah since third grade and in college he was my best friend. I knew Yusor and Razan since childhood – growing up playing basketball and being part of service organizations together. I will say that was the most difficult challenge I faced.
I ended up heading the campaign for the one year anniversary of their death which involved over 25 events in one month. It was a tough and time consuming role, but I am always up for the challenge. This one was different though. I had to spearhead the campaign, while everyone got to grieve or experience the events. I had to keep it together for everyone else. It was tough, but I knew it was what I had to do for the greater good of the community.
9. That's terrible and very sad. I'm so sorry for your loss. I've learned that sometimes people will respect your leadership when they see you being vulnerable too. It's hard to allow yourself that when you're so driven. What fuels your direction?
My faith. My religion teaches me this world is temporary and that I need to do as much good as I can before I leave. It teaches me to be kind to everyone regardless of their background, to continuously gain knowledge, and to be patient in times of adversity.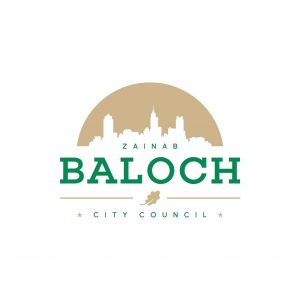 To learn more about Raleigh City Council, At-Large, Candidate Zainab Baloch and support her, visit her campaign website, connect with her on LinkedIn and follow her on her social media channels @votebaloch: Facebook, Instagram, Snapchat, Twitter and YouTube. Early voting in Raleigh runs through Saturday, October 7 and Municipal Elections are on Tuesday, October 10. Women didn't get the right to vote until the 19th Amendment was ratified in 1920. Now, we've got a bold woman running for office. Let's elect her. #VoteBaloch #RaisingRaleighForYall
Either way, #VoteRaleigh. It's your civic cuty. Exercise your rights. There never has been a more important time than now. Let's start with today.
---
Thanks for reading Zainab's story. Share in the comments how it impacted you or share it on social media. Check out next week's weekly post on Women & the Ways We Work. Missed the others? Take a look at my blog to read them. Know someone you think should be featured or would you like to be featured? Can I help you or your organization with a storytelling project? Contact me and let's chat.