Back in October 2018, I received an email with an ask: would I speak to the Democratic Women of Johnston County about my advocacy work? I would love to, I said, but I was in another country, completing a year of service for the United States government and our African partners… Months later, that email turned into a couple phone calls, and then finally we set a date for me to speak.
The following text is the speech I wrote, in text format, as it was prepared. As all speeches go, some things are adjusted to the audience and how things play out when delivering on what's really going on, so if you're able, take a look or listen to the YouTube video, as well,to hear exactly what I actually had to say.
Either way, this is what I had to say about inequality, relating it to my personal experiences, and identifying advocacy and partnerships for change.
---
"Outlining Inequality; Identifying Advocacy and Partnerships Opportunities"
Speech to Democratic Women of Johnston County
Thursday, February 21, 2019
Lindsay K. Saunders, Featured Speaker
View or Listen on YouTube; Remarks as Prepared Below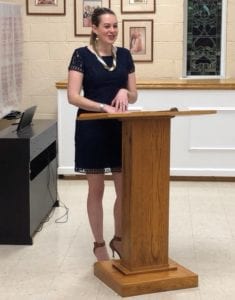 Good Evening,
Thank you so much for the honor to be here to share my story and some inspiration with you about how we can and must use advocacy and partnerships to end inequality.
Thank you, especially to Phyllis and Varnar for the invitation. I met Phyllis about a year and a half ago when we were passing through Congressman George Holding's lobby. On that Tuesday in August 2017, I was headed in to talk about advocating for poverty issues with my partners from RESULTS, an organization of everyday citizens raising their voices to advocate for U.S. and Global Poverty solutions.
At the time, I was working as a Communications Specialist with the North Carolina Department of IT, using writing to identify how technology and public-private partnerships support health accessibility, educating our children, and business security. Three months later, I would pack up my house into storage, buy a one-way plane ticket, and take three bags with me for a year in Zambia. Yes, that's right, I said Zambia, as in Southern Africa. Has anyone ever lived in Africa before? <Well, we should talk afterwards.> I had never lived overseas or in Africa before, but I chose to get outside of my comfort zone, in taking a one-year assignment with the United States Agency for International Development, better known as USAID, at the U.S. Embassy in Lusaka, Zambia. I wanted to live by Beyonce's mantra of saying, "I was here," like she sang before the United Nations. I wanted to say I lived with no regrets and took advantage of every opportunity to make a difference in the world.
Being that I have never had a lot of wealth to rely on, I must acknowledge that this was not possible without the support of many family and friends who helped me raise funds to make the move.
With my job being a one-year tour, I would be without diplomatic privileges and had no idea what I would face, but I was committed to service for the U.S., an already great country, and to leveraging partnerships that would empower and change lives.
Living in Zambia, I saw how comfortable and privileged my life as a middle class American was before, but also how effective partnerships pave the way for a legacy of worldwide change. United States foreign policy programs work with other donors and nonprofits to make a difference for communities living in poverty. The impact is more far-reaching than most of us can possibly imagine.
We may judge people in developing countries with fear, but I saw so much resilience. Many watched with horror as President Donald Trump would sling insults at immigrants and other countries. These repeated attacks are on people simply for being an "other" — an other color, an other gender, an other nationality, an other language, an other story outside of what they envision as our supposed American story. People would not travel far from their homes to start anew, were they not in peril or struggling, believing that it will be better elsewhere. It's not easy and I can understand this.
When you take an assignment overseas, you have to quickly learn the culture, protocol, and how to represent U.S. government work. I got NO training. Immediately, I was collaborating with my Zambian colleagues to create a social media campaign advocating against gender-based violence and writing speeches for the American Ambassador about conservation or healthcare.
While it was glorious to write reports for Congress, see photographs I took and stories I crafted get press coverage, and hear the words I wrote read at a historic ceremony, this experience was challenging. I struggled to navigate cultural divides to negotiate securing an affordable, safe, quality place to live. I was evicted twice for cultural differences — Zambia is a far more patriarchal society than our own so for a woman to speak up and say, 'this is unacceptable' was to be turned out. I went weeks without running water, days without electricity, and managed a year without a car. In each instance, I would be shocked and then realize, for me, this was temporary. When the water stopped coming out of the faucet, my skin color or nationality did not elevate my status to be any more deserving of clean, running water, which I will never take for granted again.
There are Americans who share these same struggles. Clean water is still lacking in Flint, Michigan, health care is still not affordable, public transit is not fully available, our teachers are grossly underpaid and undervalued, student loan debt is out of control, our rural communities are left behind, and it is becoming more difficult to find affordable housing. We all know I could go on and on about this. These issues must not be overlooked and we must not remain silent even if one of those scenarios does not affect us.
Who is impacted most? Women, children, and people of color. We must find groups and partners to create strength in numbers to advocate for change and end this inequality.
I hope we will all continue to speak out about what is important to us. That freedom is not available everywhere and the knowledge shared between us, through the media, must be protected as if our lives depend upon it. Because it does. We have the privilege of a voice in the United States. Some people in other countries are locked up for speaking out against the government. As an American federal government employee serving overseas, I was stripped of my civil rights: the Hatch Act only allowed me to vote. Not everyone even has equal access to voting though.
It was hard to be muted about the things impacting me. Woman. Daughter. Fiancee. Educator. Writer. Policy Wonk. Advocate. Millennial. Future Mother. Sister. Friend. Family of color. Family of dual nationality. Family of immigrant. American. 
I wore a shirt to the HKonJ March and rally a couple of weeks ago that read, "Feminism is the radical notion that women are people." Imagine what that means for intersectional feminism. A couple of years ago, I was on a hike with a group of people I had just met and got into a debate with a man about why, in my opinion, I believed we must not disregard identity politics. My response got him to pause, when I said, "My needs are different than yours are simply because I am a woman."
Wherever you look in the world, we are already a step behind simply because of our gender. One of my chores as a child was to set the table. I believe we need to not just take a seat at the table, like Sheryl Sandberg tells us, but we must set the table for us to take ownership of what we identify with and what cause fuels our fire for living on this earth. Even if sometimes all we have to count on is ourselves, we can only make effective long-term change with strength in numbers, and partnering together in groups or leveraging programs that can give someone a leg up.
Women must have choices. Women having choices can control a mere window into shaping our destinies and those we care for, whether they are our parents, friends, children, or even pets.
While I myself am the new Vice Chair of my Wake County Democratic Party Precinct, what I would encourage you all to do is to find something to align yourself with beyond the Democratic Party. Identify the cause or issue that keeps you up at night. Then find an organization that focuses on that. Build a *positive* relationship with your policymakers, whether local, statewide, or national. I even though I do not align with their viewpoints, I can walk into the offices of Congressman George Holding and Senator Thom Tillis and hug his staff. I genuinely enjoy our conversations. I just wish there was more action towards progress than the current radical conservative regime.
Since I returned to the United States late last fall, I've been doing a lot of reflection and exploration into the people and organizations working on many of the causes that I see really on fire.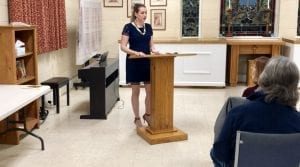 We must assess women's roles in education and how we prepare our children for their futures. We have free public education, which is incredible, but we still treat our teachers as if this is a side hustle from being a Mom and they don't need a career. In my opinion, teacher pay should be right up there with the kind of salaries our doctors make. We must have empathy not just for the children, but for the teachers who work tirelessly and for very little. As of late May 2018, walkouts in Colorado and North Carolina followed statewide actions in West Virginia, Oklahoma, Arizona, and Kentucky. Since I've returned to North Carolina, I am temporarily teaching until I land my next long-term position. We have schools that have mold and asbestos, failing heating systems, diminishing elective options, and oversized classes. I'm not a parent yet, but I don't want children entering this world without being nurtured and receiving a well-rounded education, even in cultural components like art, music, and language.  Whether parents or concerned citizens, we must continue to call on our elected leaders and encourage them to make these issues a priority. If that doesn't feel like enough, join the PTA or run for Board of Education.
My Grandfather served on the Board of Education in Suffolk, Virginia and was part of the decision to integrate schools. To be honest, though I revered him, I think he thought it made more sense fiscally and logistically, rather than truly grasping the sense of being "woke" to racial equality. He certainly had an awakening as his life went on. One of the women by his side as his life ended was a black woman, his preacher. My Father also ran for Board of Education in Dare County back in the late 90's. I was so proud and also mad that his election was one year before I turned 18. He had founded Habitat for Humanity in Dare County, as well. He was such a community fixture and, aside from his emotional detachment, I idolized him.
Mom was Habitat Secretary. I never knew until I was rummaging through her spare closet that Mom started the League of Women Voters in Dare County. She didn't talk about it. She complains about me dragging her to political events and my desire to talk about social justice issues, at every opportunity, but I know she secretly is proud.
One day, I, too, want to run for office. I want to be a part of effecting long-term change and the best way to do that is through belief systems and policy.
Running for office is scary though. In 2017, I went to candidate training with LEAD NC and Lillian's List in Raleigh, followed by the Progressive Change Campaign Committee in Washington, D.C. I wanted to run for State Senate. They don't pay enough….and I had to reassess when my time was. Research shows that when women run, they are elected at the same rate as men. The problem is they don't run at the same rate. One reason? They aren't asked to run. Research has also shown that women need to be asked at least more than once before they seriously consider running for public office.
In the meantime, I can be a partner and a supporter of others who are ready to run. I'm planning to support a young Muslim woman of color who is running for office in Wake County. We're both pretty fired up about inequality and that's basically all you'd see in our Instagram or Twitter feeds if you follow us online. When we met up for lunch a few weeks to connect and I offered my support, she pushed back, "Why aren't YOU running?" I'd still also like to run for office one day. It's just not my time, but I'm watching, working on organizing my own life, building what I stand for and will be connected to, and waiting for things to line up so I'm in a position to do so. I'm hoping to volunteer for 2020 Presidential candidates too.
A lot of what we do and push for takes time and we have to wait it out. I don't mean silent, because silence and inaction can turn into being complicit, but we must wait for things to enacted or truth to be unfolded as things are uncovered. If it's one thing my time overseas taught me, it's patience.
During my tenure as a grassroots advocate with RESULTS, I was part of a 10 year effort to pass the Reinforcing Education Accountability in Development Act, or the READ Act. When this legislation passed in September 2017, I was one of hundreds of RESULTS activists, and partnering organizations, who could proudly say that our partnership to get this covered in the media and hold tight on persistence in obtaining Congressional sponsorship would be part of the first ever U.S. global education strategy. I was also privileged to be in the field when it became a reality and began to shape how we approach and support global education, as a whole for our well-being.
Health. It means so many things. Insurance. Prescriptions. Good doctors and facilities. Food security. Mental health. Abuse. Sexual Assault. Violence.
Women and health are the focus of organizations like MomsRising, NARAL, Planned Parenthood, CARE, RESULTS, and UN Women. Maternal and child health must be at the forefront of our health programs. Did you know that we have the highest maternal mortality rate in the developed world? The CDC reported an increase in the maternal mortality ratio in the United States from 18.8 deaths per 100,000 births to 23.8 deaths per 100,000 births between 2000 and 2014. That a 26.6% increase. It is estimated that 20-50% of these deaths are due to preventable causes, such as: hemorrhage, severe high blood pressure, and infection. This is even higher in women of color.
African American women are four times as likely to suffer from maternal morbidity and mortality than Caucasian women, and there has been no large-scale improvement over the course of 20 years to rectify these conditions. Furthermore, women of color, especially "African-American, Indigenous, Latina and immigrant women and women who did not speak English," are less likely to obtain the care they need. Access to birth control is imperative and more than just an accessory for our sex lives. We can and must be able to choose when or whether we have children.
I think a really effective frame for ending inequality is that Medicaid Expansion serves as an equalizer. If someone doesn't have insurance and still has to go to the hospital they could rack up serious medical debt…which in turn affects their credit, their ability to get an apartment or a car, and thus what kind of job they will get. Not having health care is one of the main reasons that folks stay caught up in the cycle of poverty.
I might not be here today had my parents not been able to obtain Medicaid for me to get help with my childhood depression. I've only gotten more comfortable disclosing that over 20 years ago, I was hospitalized for my depression and it was Medicaid that saved my life, when people didn't think I'd finish high school or college, much less get a graduate degree or work at an American Embassy. But people need to be brave and tell their stories.
On February 27, many North Carolinians and over a dozen organizations will come together from all over North Carolina for Medicaid Expansion Advocacy Day at the North Carolina Museum of History and General Assembly. I would encourage you to show up, take it in, and lend your presence. I have more information about that, if you're interested in joining.
We are overworked and underpaid, with women still lacking equal pay for equal work. Offering healthcare to the many people who are working in jobs that are the backbone of our economy, jobs like construction, food servers, child care workers, admin assistants, allows them to stay healthier and be more productive members of our society, as well as be better for society from a public health standpoint. If more folks are covered, and there is less uncompensated care costs, that will lower health care costs for all of us.
Infectious diseases like AIDS and tuberculosis are not a thing of the past, but they are overly stigmatized as only impacting people from the gay community. I'm proud that I've joined with Equality NC and the NC AIDS Action Network to advocate for protecting our healthcare, through the Affordable Care Act, and help educate our communities.  
When we mention health and safety, we cannot forget the emotional, physical, and sexual violence against women. #MeToo and TimesUp really shined a light on that with the take down of powerful men who felt entitled to take advantage of women. Still. We have elected leaders and men in powerful appointments who still have a history of putting their hands where they don't belong. In 2014, I had just been laid off and attended a holiday networking event hosted by Timely Text, a recruiting agency I'd worked for previously. I wore a black and green dress with red heels for the festive occasion and heard an icy voice, from VP Adrian West, complimenting me on my dress as he slid his hand down my body and rested it on my backside. I froze and beyond confiding in a couple people, never filed formal charges. What assured me more than anything was having a listening ear and validity that I did nothing wrong to warrant being groped like that. Fear of retribution looms to impact our futures, especially when we are lower on the totem pole or might come from less. Thus, sexual violence impacts women with even more to lose.
Like many, I think gun violence is a public health crisis. It is endangering our well-being when we question going to church, a concert, school, or a movie.
Our children now fear drills in school because they very well could be reality. Last week, social media was trending with an image of a loving note written on a little girl's arm to tell her parents she loved them because she feared for the drill at her school being an actual threat. Last month, I attended my first Moms Demand meeting. My heart broke as more and more shootings occurred over the past year. The shootings at Sandy Hook Elementary School in Newtown, CT in 2012 and at Marjory Stoneman Douglas High School in Parkland, Florida in 2018 were catalysts in spurring the movement to end this senseless violence. An attack came even closer to home, when I saw Charlotte trending on Twitter in October 2018 when there was a shopping center shooting and I was numb and fearful for our home state, even from afar.
How can you weigh in on gun sense in North Carolina? Easy access to guns and weak gun control laws, NOT mental illness are the leading factors behind America's gun violence crisis. H.R.8 – Bipartisan Background Checks Act of 2019* and S. 42 – Background Check Expansion Act have recently been introduced. The only North Carolina sponsors on H.R. 8 are our Democratic Representatives and we need our Republican Representatives and Senators to come on board and co-sponsor these bills. What do they mean? "To require a background check for every firearm sale." That's it. And there's no cost attached to this legislation. This legislation even being introduced is significant. Call, email, and write to your policymakers. We need this to not only be a national issue, but a state and local concern. Violence in poor communities impairs people's abilities to eat, sleep, and study peacefully.
While I was overseas, I watched more repeated attacks on people of color in America and would send messages of love to my Latina and Muslim friends. Sometimes, just expressing a sentiment whether through a text or a social media post helps people know that you're standing behind them. Under the current administration, the violence, persecution, and discrimination of people of color, Muslims, and immigrants are only growing. We must not ignore the fact that Black Lives Matter, refugees and immigrants diversify and strengthen our communities, and Muslims come from a faith of peace, not the radical distortion that has been weaponized in the Middle East.
Growing up on the Outer Banks, I longed to be part of a world bigger and more diverse than what I saw in my beloved community on that string of islands. I knew it was bigger than me and looked different than me. Since moving inland, I've been proud to align myself with the North Carolina Justice Theatre Project and the NAACP.
Drawing on the unfinished work of Dr. Martin Luther King, Dr. Reverend William Barber is a North Carolina leader calling for a moral revival through the Poor People's Campaign, which is uniting tens of thousands to challenge the evils of systemic racism, poverty, the war economy, ecological devastation & the nation's distorted morality. When our nation turns to one dependent upon walls and bans, then we must speak up so we do not allow ourselves to become overrun with Nazi White Supremacist views.
The truth is that everybody, no matter their gender, age, orientation, color, socio-economic status, has got a right to live. The factors that weigh in to increase inequality and pile up on poverty are not just a few. Obviously, there are many here, which I've outlined, but you can still make a difference. And don't call making a difference a dream. Call it a plan. What are you dedicated to?
As my year of international service came to a conclusion and I had a rocky return to my home country, I struggled and kept reminding myself that this struggle must be re-purposed in dedication. I believe in turning every challenge into victory. It may not happen instantly, but we must use this time on earth to leave some sense of good. I urge you to really consider, what are you dedicated to leaving behind? If you're struggling, I implore you not to back away from the world, but to use it.
Thank you for listening and having me here with you all tonight.
*HR 8 passed the House on 2/27/19.
---
Were you inspired by what I had to say here? I'm available to speak to others about my expertise and experiences and eager to get the message out. Contact me via email at lindsayksaunders at gmail dot com.