USAID/Zambia
Software-Related Pieces
Tech Companies
Instruction Manual: Excerpt of an Instruction Manual entitled "Tips and Tools for Successful Presentations"
This is chapter four of a third-party book on how to produce an effective presentation using PPT.  The manual sample is exactly 6 pages.  All content is original text and design.  Two spot colors were used.  Graphics used were a combination of content and ornamentation to assist with navigation.
Chapter 4: Tips and Tools for Successful Presentations
Presentation Materials Sample entitled, "Communicate Effectively Using Graphs and Tables"
Creation of a poster, designed for the workplace, which explained how to effectively use graphs in presentations and written material.  Assumptions are that no one will be standing next to the poster and it would probably end up hanging in a break room or hallway at work.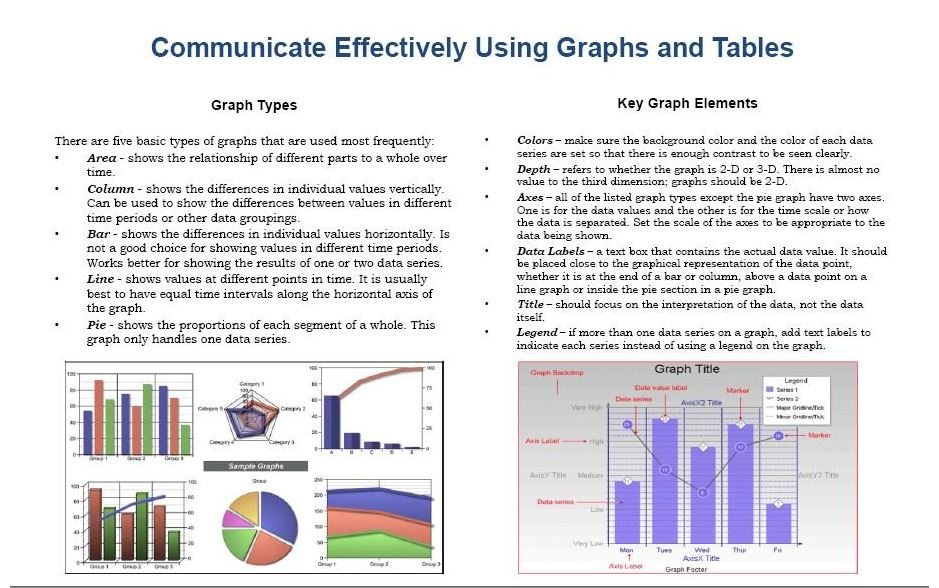 Saunders Poster – Communicate Effectively Using Graphs and Tables
Travel Guide: London's Gardens
Researched, designed, and produced a visitor's guide focusing on a thematically unified set of London sites or attractions.  Selected a theme, identified theme-related public sites in and around London, and conducted field research on those sites.  Then applied course-developed principles of document design, visual rhetoric, usability, and style to design and produce a Travel Guide to the selected sites. All text and most photography is my own work.
Guide to London Gardens and Parks
*All content on this page is copyright Lindsay K. Saunders, January 2020.