There are many, many ways we connect with people these days and half of the people I know, I have met online through Meetup, LinkedIn, or Twitter. I still see those as wonderful opportunities for relationships. More stories. More things to learn. Story #25 in the Women & the Ways We Work series is one of those stories. Stephanie Gabryszak is an IT/Technical Recruiter who connected with me on LinkedIn in May 2016. We've exchanged emails and phone since, but never actually met until a week ago. And when we grabbed lunch, she was so personable, really sweet, and interested in understanding me and my direction.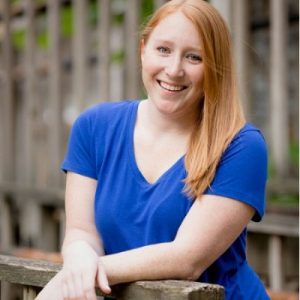 I asked her to share her story. The power of being bold in asking someone you don't know to give you a little time and a little of themselves goes a long way. You learn a lot that way, through someone else's story. Part of the goal in my series is to counteract negatives — how we see less leadership statistics for women, less success stories for women, or stereotypes. Stephanie's is no different. She studied Business and Marketing at East Carolina University and has spent much of her time in recruiting at Veredus, a Hays company, ever since. She's a recruiter, really killing it, approachable and down to earth with her interests, but driven to succeed and grow as a person. 
What do you do in your "day job" and why have you chosen that?
I am an IT/Technical recruiter. I help local companies in the Raleigh/Durham area find the talent that they need to grow their business. I connect with people by referrals, social media, or by them applying to our jobs/job boards. I consult with them on what they do now, what they want to be doing moving forward, and help them get there.
I do know how active you are engaging with people on LinkedIn. How did you get into what you do now?
Honestly, my career chose me! I was pretty happy selling knives — yes, the Cutco thing — before I was recruited by a recruiter back in 2014. Since then I have been on the journey of being a professional matchmaker!
Cutco before recruiting! Wow. What do you enjoy most about your work?
I've stuck with it because not only is it great money, but I get to help people every single day. It could be helping someone get compensated better for their skill, or helping them have more flexibility in their career so they can spend time with their families. It's a pretty awesome feeling.
How happy have you been with your choices?
I can't lie; I'm pretty good at what I do, and being good at what I do helps with loving it (and vice versa). I love building relationships — relationships that last longer then just getting someone a position. The job has its ups and downs, just like all sales roles do, but when you get on the phone with someone and tell them congrats you got the job, it is so worth it.
That is very encouraging how you share your success with others. How do you learn best?
Books! I'm a big big nerd and I think being in the right mindset and having the right influence can really impact you. I've read several books this year but two have really stuck with me after reading them.
10X Rule by Grant Cardone: If you are in sales, running your own business, or just want to grow, this book is a must read. It talks about setting goals, dreaming big, and not letting the haters affect you.

Year of Yes by Shonda Rhymes: Y'all, I love her. She's my #WCW every single day – and I love Grey's Anatomy as much as she does. Her book is about opening up and saying yes to things that make you uncomfortable so you can be a better version of you.
Gotta love book nerds! What do you devote your time to outside of "work?"
 I spend time reading as much as possible — a perfect day would be hanging out in my hammock chair on the back deck reading. I also play roller hockey in an adult league here, locally! I'm trying to become a better cook, so I'm always trying new recipes, but it's a daily struggle.
There are many daily struggles in life. How do you feel most inspired?
Zig Ziglar once said, "People often say motivation doesn't last, well neither does showering – that's why we recommend it daily." The key is not just getting inspired, but staying inspired. Being surrounded by the right people helps me tremendously. If you are the smartest person in the room you need to leave – asap! Over the past few years I've had the chance to work with and surround myself with different types of people. Your mood just naturally shifts when you are around negative, unmotivated people. When I encourage and inspire others, it's amazing how good I feel after, and it's incredible seeing the positivity and motivation spread, even back around to me!
Love the positive vibes. What causes are you most passionate about?
Unfortunately, one of my flaws right now is I don't volunteer enough, but it's something that I'm trying to work towards. I LOVE any organization that supports our troops. I am such a believer in them, and wish I could do more to thank them for all they have done for us. I know I could never do what they do and what they and their families sacrifice. I just wish I could help them more.
What is something interesting about you?
My favorite Pandora station is my Britney Spears station. I've tailored it over the years by the thumbs up and down buttons so it now consistently plays a solid mix of Britney Spears, Eminem, and Lil Wayne. Also, I play hockey in a "coed" league that consists of 6 teams, with the female representation being just one other woman and me. We're the enforcers on the team.
That's pretty cool. Who do you look up to?
I don't necessarily have certain people I look up to. I appreciate people who hone their craft and excel at it. Could be anyone from Grant Cardone to LeBron James. When you are exceptionally good at what you do and you are passionate about it, your excitement and motivation spreads to others. If there was a fictional character I could spend time with, it would be Meredith Grey (Ellen Pompeo) from Greys' Anatomy. If you read the book, "Year of Yes," Shonda talks about how much she loves Christina Yang (Sandra Oh). However, I LOVE Meredith. Bad stuff happens to her ALL. THE. TIME. Her parents get divorced, her mom is pretty horrible and then dies. She is involved in a gun shooting, plane crash, her sister dies, she struggles with having kids, her husband dies, she ends up getting horribly beat up – the girl has some bad luck. But she keeps going, she keeps moving forward and she doesn't let it break her.
Those who face adversity really inspire me, as well. What are you most proud of?
Our fiscal year is ending and I've officially hit our company's award level. After being on track most of the year, I fell behind as we were coming to the end. I pushed hard, determined to hit my goal, and I did.
Best and worst advice you've ever received?
Best advice I've ever gotten? Never Settle. Never settle in relationships, in health, in work, in life. Strive for greatness.

Worst Advice? Have a 9-5 job, that's where you'll make money.
I really respect your drive. What fuels your direction?
 Creating a fantastic future. I'll be getting married May 2018, and my vision for my future husband and me is just getting started. It's planning how to be a better person — better employee, better wife, better mom down the line, better human. To think, I'm pretty great right now, but a year from now, 5 years from now – when I'm even better – that's crazy to think about.
Recently, Stephanie published an article, Top 5 Resume Tips You Must Implement, which I encourage you to check out. Follow her fun pictures on Instagram or her professional recruiting instagram account. Connect with Stephanie on LinkedIn. She's a good person to know if you're looking for a job or need to find talent for a hiring need too, but remember what she said about building those relationships — it's very important.
---
Thanks for reading Stephanie's story. Share in the comments how it impacted you or share it on social media. Check out next week's weekly post on Women & the Ways We Work. Missed the others? Take a look at my blog to read the others. Know someone you think should be featured? Can I help you or your organization with a storytelling project? Contact me and let's chat.