Newsletter 3, Week 2, November 12, 2017: These are personal views and do not reflect those of the U.S. Government.
Lindsay Adventures, on to ZamLife
Staying in touch and share the journey of life in Zambia, explorations of an expat, and learning as I work for USAID at an American Embassy.
Did you miss the first two newsletters? I've got them posted on my blog, with even more pictures than the email newsletter version!
---
USAID Delivered 12 Medical Distribution Vehicles to Medical Stores Limited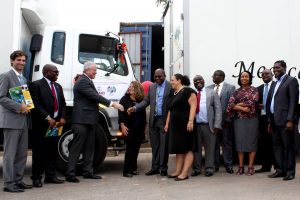 (Photo: USAID Zambia Mission Director Patrick Diskin shakes hands with the Government of Republic Zambia Minister of Health in front of one of the medical delivery trucks. Photo Credit: Lindsay K. Saunders, USAID)
On Tuesday, November 7, USAID Zambia Mission Director Patrick Diskin joined the Ministry of Health Zambia and Global Health Supply Chain Procurement Supply in a Handover Ceremony of 12 distribution vehicles provided by USAID – US Agency for International Development to Medical Stores Limited. The vehicles, including 10 and 30 ton trucks, two of which are refrigerated, will assist in fulfilling the "Last-mile" distribution mandate, a new but key part of MSL's objective. Medical Stores Limited is dedicated to improving the health of individuals and communities by delivering safe medicines and medical supplies to over 2,000 Government health facilities across Zambia. The Global Fund to Fight AIDS, tuberculosis, and Malaria and the President's Emergency Plan for AIDS Relief, two major U.S. supported initiatives, will be supported by these medical deliveries. #USwithZambia
Over the weekend I'd played around with the camera so I was more comfortable with it. This time, I got some really good shots! And by then, I'd taught myself out how to edit the photos too. Chando is in love with the bottom right photo. It's got the right expressions, lighting, and logos in view so it may actually be blown up for a pop-up display. So I'm getting the hang of my photography responsibilities after all!
---
Trial & Error Lessons in Bemba
Last Sunday, I enjoyed breakfast at the nearby Buzz Cafe and then got a cab to Central Kabulonga shopping center. My last NC Department of IT paycheck just came in so I went to treat myself to a pedicure. Only $18 so why not? Plus, I'd see what a salon is like here. Well, I'm not used to unisex salons, but this was a friendly spot. The nail room was the size of a closet. I think it might have been a storage closet at some point! The chair was clearly long past its commission because the massage part just stayed in the same spot stabbing me in the back. But Ferlane was amazing at her job. So I was surprised to learn she'd never been to beauty school. While she worked on my poor worn out feet and legs, I asked for her help to learn some Bemba, one of the main three ethnic languages here. She was impressed with my ability to say the phrases so well and I made careful note of spelling so I'd get it right.
Later on, I headed to East Park Mall to watch football (soccer) with my friend Nathan. On the way there, I decided to practice my Bemba with Maurice, the cab driver I've had drive me around about a half dozen times. I was doing pretty good so he was proud and amused with me. So, I decided to say, "You look happy." That would be "Namutemwa."
I accidentally said, "Nimutemwa," which means "I like you." I like you as in romantic interest! He got a smirk on his face and said, "you like me?" I stammered, "um, I think I got it wrong." Then I went in to meet Chicago's to watch Manchested United play Chelsea and told Nathan what I'd learned and done. When I said, "Nimutemwa," he got the biggest grin on his face. "Do you know what you're saying?" he asked me. "I guess not," I responded. "What AM I saying?" I then took note to fix my spelling and get it right next time. Maybe I'll say "Nimutemwa" to the right person next time…
---
Zambian Welcome: Drunk Cab Driver
When I was leaving Nathan's side of town after watching football with him Sunday, we made sure I would get in a cab with someone Nathan trusted so we called Laston, the guy who took me home after I visited to see Jonathan with birthday presents only 2 days before. It was 9:30 p.m. and very dark, plus Laston has these ridiculous tinted windows. I got in and I could immediately tell something was different. He was defensive because I hadn't called him since he'd driven me two days before. In fact, I had tried to call him earlier, but the network wouldn't connect my call and I showed him the call on my phone. We turned the corner, he stopped at PHI Mall, and suddenly got out and walked away, leaving the driver's side door ajar. WTF, I muttered, and as I looked over my shoulder I realized a woman was in the back seat. A text reply from Nathan indicated she was probably his girlfriend. Weird. Then I saw the bottle in the console. The label read "Hunter's Dry" and I wasn't sure that was beer, but it was a brown bottle so pretty likely it was beer. A Google search verifies that it actually is beer though.
Laston returned and I realized he also had a bottle in his lap between his legs. We got going again. He wasn't paying attention though so we came inches from hitting a bus. I gasped. A normal, sober driver would be apologetic to his passengers, but Laston wasn't…he immediately pulled up to the right of the bus, which meant we were blocking and facing traffic. The windows were rolled down and as he yelled at the bus driver, I gently tapped him on the shoulder, pleading with him to just stop and go on. Then another car pulled up to the right of us so we were boxed in and Laston was yelling at both vehicles. Suddenly, the woman in the back seat spoke sharply, "Laston!" Between my pleading and her tone, he came back to life and pulled up, but not to get going again. He pulled right in front to cut off the bus and then the other car pulled up to block us and almost ran us off the road. I saw a nightclub down the road and, for a moment, I contemplated getting out so at least I'd have a landmark for another driver to come get me, but knew it was best to stay in the car. I was taking deep breaths and praying that I'd be okay, praying to talk to my Mom again, and just get safely back to my lodge. More pleading. Finally, the car that had blocked us, moved on and we got going again.
The dark scenery whizzed by. Finally, we reached Lake Road and I saw Choppies, a grocery store near my lodge. As he slowed down to reach the intersection, I indicated I wanted him to pull over and let me out at Crossroads Shopping Center. He insisted on taking me the two more blocks to my lodge, but I was insistent and told him ever so firmly, "you need to pull over now, I want OUT of this vehicle. If you do not pull over right now, I'll open the car door." I turned into bulldog Lindsay repeating that he needed to stop the vehicle. Finally, I opened the door and we came to a halt. I got out, screamed at him that he would never be called again, he would be lucky if I didn't report him, and he was an abusive, drunk jerk, throwing K50 at him and slamming the door. He then turned around in the middle of the road and slowly drove away so I started hurriedly walking the two blocks in the other direction back to my lodge. Once everything that happened hit me, I started shaking and crying. The two gates at my lodge were locked securely, but two guards, Alex and Progress, were out front. Alex rushed to open the gates since he realized I was upset and immediately let me in. I told them what happened and, seeing as drunk cab drivers is all too common around here, they weren't as alarmed as me, but cautioned me to only use reliable drivers lest I be assaulted or robbed. No kidding guys… Immediately after I entering the flat, I found my badge and called Post 1 (Marines) at the Embassy and reported the driver before calling my Mom just to hear her voice. The truth is, you could end up in a car with a drunk driver anywhere in the world, but to be completely powerless in a foreign country is terrifying.
---
A Medical Scare
If you're medically squeamish, don't read this.
I know some people would not to talk about this publicly, but I think more people need to be educated on this issue, so I'm going to speak candidly about a health issue I experience. Monday morning, I woke up and knew something was wrong. For 17 years, I've been getting ovarian cysts; they are liquid masses that must rupture before they release painful pressure. Birth control helps regulate them, but I still deal with this about once a year. (So, take that conservatives and men who make healthcare policies, but don't recognize that birth control is a medical necessity for someone like me.) These cysts not life-threatening, but they do disable me for about 24 hours, leaving me shaky, dizzy, and queasy to the point that I can't stand up well on my own and often feel faint. This usually forces me to miss work and then costs me extra money because I have to go for medical testing. Nine years ago, I had an episode where my ovary flipped over and was suffocating though. So, every time it acts up, I know to get an ultrasound as quickly as I can so that I know what I'm dealing with.
Once I got to work, I went down to the Health Clinic. As a USAID contractor, I don't actually have health clinic privileges, but they're not going to turn away an American citizen in pain. I was booked with a driver to take me to CFB Hospital, which apparently is one of the best private hospitals in Lusaka. The technician did an ultrasound and determine that what I was dealing with was very mild so the driver took me back to the Health Clinic so I could officially be sent home from work. Sadly, the Health Clinic doesn't have Hydrocodone or Vicodin, but the Tramadol the doctor gave me helped ease the pain so I could sleep off most of the pain. And the next morning, I was back at work to go shoot that event with the medical vehicle delivery!
---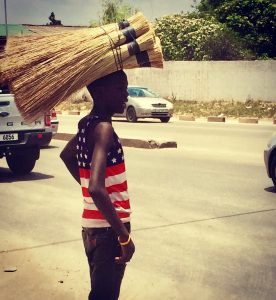 On my way back from shooting the MSL Event, I just took in the scenery as the driver took us through Lusaka, back to the Embassy. This boy caught my eye, just standing there ever so casually, with the brooms on his head, wearing his American flag t-shirt. Right after I snapped this photo, he turned and smirked at me, before we pulled away.
---
Progress is Popular
Apparently, Progress is a popular name around here. Two of the security guards where I live are called Progress and when I went to the Buzz Cafe last week my server's name was Progress. Three Progresses within two blocks of each other! I've also met a man called Gift and heard that is also a popular name.